The know error® system for breast biopsies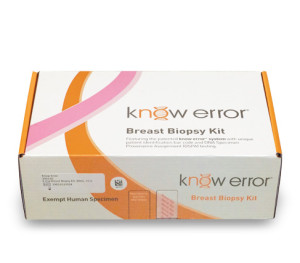 According to the American Cancer Society, breast cancer is the second most common cancer among women in the United States, second only to cancers of the skin. In fact, it accounts for nearly one in three cancers diagnosed in U.S. women.1
Approximately 1.6 million breast biopsies are performed annually in the U.S. each year,2 about 20% of which will result in a cancer diagnosis.3 Given the complex nature of the biopsy evaluation process executed at this large of a scale, preventing diagnostic mistakes due to Specimen Provenance Complications (SPCs) is crucial to facilitate proper treatment and optimal patient outcomes. Studies have documented that up to 3.5%4 of biopsy specimens being evaluated may not belong exclusively to the patient being diagnosed, whether by specimen contamination or patient misidentification errors. Incorporating DNA Specimen Provenance Assay (DSPA) testing into the standard process for collecting and evaluating biopsies mitigates the specimen provenance errors that can lead to unnecessary medical interventions and/or delayed treatment. The patented know error® system utilizes DSPA testing, a buccal swab-to-biopsy tissue comparison, to rule out the possibility of specimen contamination errors and confirm the cancerous tissue(s) belongs exclusively to the patient being evaluated.
The know error® system for breast biopsies first became available in early 2010 and is now utilized by industry-leading breast centers and radiology practices around the country. Testing is generally performed for any of the following diagnoses:
• All Malignant cases
• Atypical Ductal Hyperplasia
• Ductal Carcinoma In-Situ
• Invasive Ductal Carcinoma
• Invasive Lobular Carcinoma
• Atypical Lobular Hyperplasia
• Lobular Carcinoma In-Situ
• Intraductal Papilloma
• Paget's Disease
• Phyllodes Tumor
Learn more about the breast biopsy kit components included in the know error® system.
1. American Cancer Society. Breast Cancer Facts and Figures 2015. Atlanta: American Cancer Society, Inc.
2. Data provided by CBS News, January 5, 2009. http://www.cbsnews.com/news/study-600000-women-get-unneeded-biopsies/.
3. Silverstein MJ, et al. Image-Detected Breast Cancer: State of the Art Diagnosis and Treatment. Journal of the American College of Surgeons. 2005;201(4):586-597.
4. Pfeifer JD, Liu J. Rate of occult specimen provenance complications in routine clinical practice. American Journal of Clinical Pathology. 2013;139(1):93-100.
---