Other Biopsies using the know error® system
Prospective use (Routine use for all biopsy patients)
The Know Error Biopsy Specimen Kit
Strand Diagnostics conducts routine DNA Specimen Provenance Assay (DSPA) testing for breast and prostate tissues on a prospective basis. As a physician who may conduct biopsies on other tissue types, our laboratory staff has experience with a variety of other biopsy types including:
• Cervical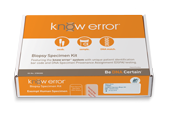 • Colon
• Endometrial
• Bladder
The Know Error Biopsy Specimen Kit can be utilized in a prospective (routine) basis to rule out specimen contamination errors and confirm the cancerous tissue(s) belongs exclusively to the patient being evaluated.
If you are interested the know error® system for tumor types outside of what is listed above, we can further investigate to determine clinical feasibility on a case-by-case basis. Please contact Customer Service with any questions, 1-888-924-6779, option 2.
---
Retrospective use (After the biopsy)
The Know Error Specimen Source Verification Kit 
(SSV Kit)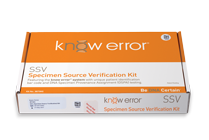 DNA Specimen Provenance Assay (DSPA) testing can also be requested (after the biopsy) on a retrospective basis for:
• Cases when laboratory results are unexpected or discordant with clinical findings
• A physician or patient wishing to eliminate occult specimen errors before proceeding with therapy
Strand Diagnostics will promptly respond to these inquires, please contact Customer Service at 1-888-924-6779, option 2 for additional information about requesting the SSV kit.
---