Your Specimen. Your DNA. Your Diagnosis.
Facing a possible cancer diagnosis is certainly one of life's most stressful events. And it's something that impacts numerous Americans and their families each year. According to the American Cancer Society, about 1.7 million new cancer cases are expected to be diagnosed in 2015.1
What you might not know is that the biopsy evaluation process used to render these diagnoses involves several individuals and up to 18 complex steps, many of which are beyond the control of your physician. Although diagnostic mistakes in this process are rare, when they do occur, the consequences can be devastating. One patient may receive unnecessary treatment that significantly impacts his or her quality of life, while the other's cancer remains undiagnosed.
In an effort to provide the most accurate diagnosis possible and facilitate proper treatment, hospitals and specialty practices around the country are embracing the know error® system as a standard in cancer diagnostics. Through the use of bar coding, forensic principles and DNA testing, this patented system ensures that when your results arrive, the results belong to you. 
1. American Cancer Society. Cancer Facts & Figures is an annual publication of the American Cancer Society, Atlanta, Georgia 2015.
Additional patient information can be found by downloading the brochure below.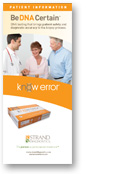 Patient Information Brochure  |  PDF (1.8MB)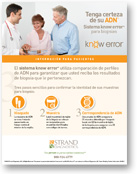 Spanish: Informacion Para Pacientes  |  PDF (770 KB)
---