The Biopsy Specimen Kit
Strand Diagnostics conducts routine DNA Specimen Provenance Assay (DSPA) testing on breast and prostate biopsy tissues. The Biopsy Specimen Kit is designed for physicians who conduct routine biopsies on other tissue types. Our laboratory staff has experience with a variety of other biopsy types including:
• Cervical
• Colon
• Endometrial
• Bladder
If you are interested in utilizing the know error® system on tumor types outside of what is listed above please contact Customer Service at 1-888-924-6779, option 2.
---
The know error® system provides the components for confirming the assigned patient and ruling out contamination errors in the diagnostic process. Use your curser to pause (hover over) and advance the graphics (click the arrows).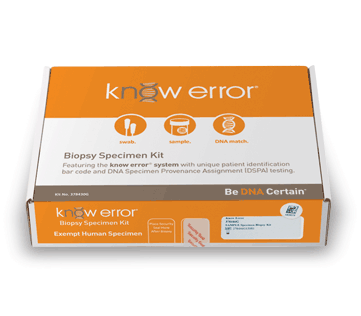 Know Error Kits
The know error® system enhances diagnostic accuracy by ruling out contamination and switching errors that can occur during the biopsy process.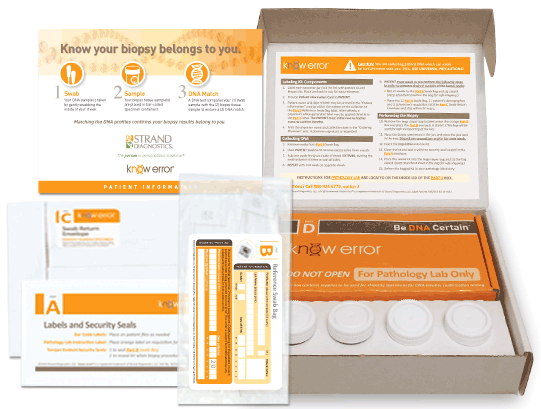 Biopsy Specimen Kit
All Know Error biopsy kits contain the components necessary for DNA testing and biopsy collection.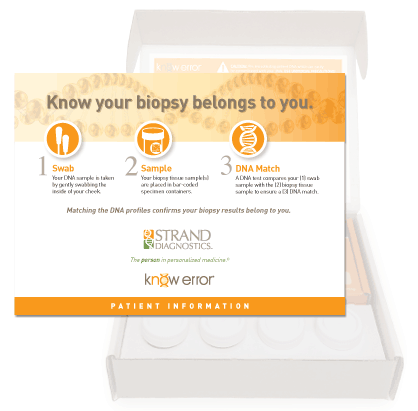 Patient Information Card
The Patient Information Card provides the patient with answers to common questions about DNA testing.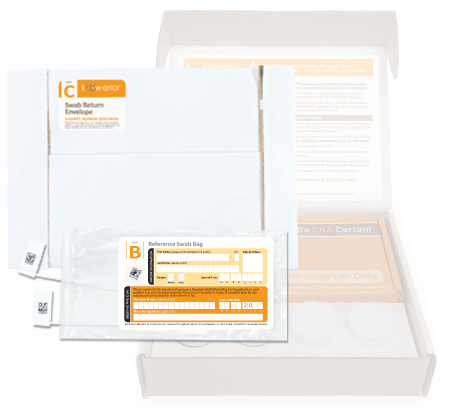 DNA Reference Swabs
Cheek swabs are for collecting the patient's DNA reference sample before the biopsy procedure.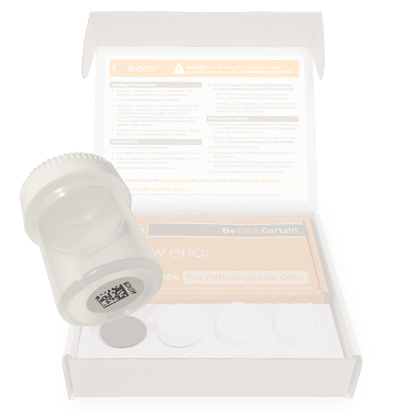 Biopsy Collection Vials
Each formalin-filled collection vial is specifically bar coded for use with this kit.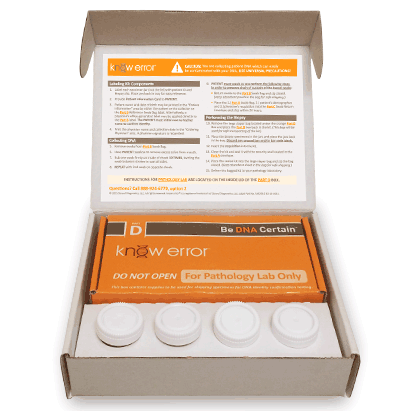 Biopsy Collection
The biopsy tissue vials and the orange Part D box are sent to pathology.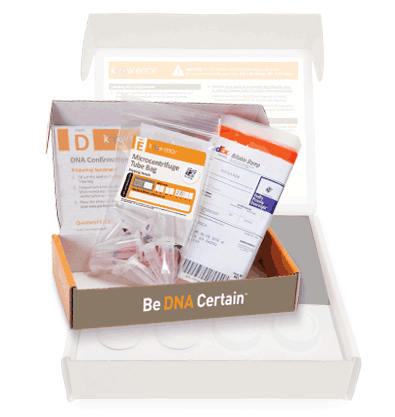 Pathology Components
The Part D box contains vials for sending the tissue scrolls taken from positive for cancer biopsy specimens to Strand Diagnostics for DNA analysis.