Strand's Prostate Gene Panel Test
The ABCs of hereditary germline mutations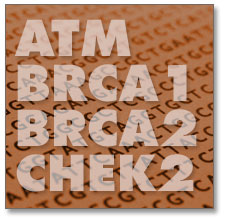 NCCN guidelines published Jan 2018 suggest that physicians test their prostate cancer patients for germline mutations in BRCA and several other genes. The guidelines call for testing all patients with Gleason score (GS) 8, 9, 10 or metastatic (METS) disease (regardless of family history); and patients with Gleason score 6 or 7 with strong family history of cancer.1 The new NCCN guidelines stem from recent publications2 concluding that prostate cancer patients with those mutations may have more aggressive cancer, or develop 2nd primary cancers. And those with metastatic disease may be candidates for PARP inhibitors if mutations are present.
BRCA testing is performed on the patient's germline DNA. Strand makes germline test ordering VERY EASY! The buccals swabs in the know error® system collects germline DNA samples sufficient for Strand to run its Prostate Gene Panel test (BRCA1/2/ATM and CHEK2) in accordance with NCCN guidelines. Therefore, there is no need to call the patient back to provide another specimen, nor a need to order a special kit (such as with Myriad, Ambry or Color). Since Strand routinely receives the Path reports with the order to test Know Error, we know the Gleason score from each patient and can determine from whom family history is needed (Gleason 6, 7) and for whom it's not needed (Gleason 8, 9, 10, Mets). We will reach out to the staff as we learn individual patients' Gleason score to request a verbal order for the recommended BRCA testing (Prostate Gene Panel) or, if you prefer, we can accept a standing, written reflex order that will allow us to proceed with testing automatically as appropriate for each patient (including obtaining the family history where needed). Fee free to contact us regarding any questions about the new guidelines or our test.
1 Strong family history consists of: brother or father or multiple family members dx with PCa under 60yrs old; OR known germline repair gene mutations (e.g. BRCA2, LYNCH); OR more than one relative with breast, ovarian, pancreatic, colorectal, endometrial, gastric, kidney, small bowel, urothelial, bile duct cancer.
2 Pritchard CC1, Mateo J, et al; Inherited DNA-Repair Gene Mutations in Men with Metastatic Prostate Cancer. New England Journal of Medicine; 2016 Aug 4;375(5):443-53. doi: 10.1056/NEJMoa1603144.
---