myPAP Kit

The myPAP™ test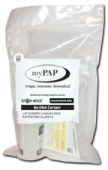 Know Error and Manhattan Labs have combined efforts to create the modernized testing provided in the myPAP™ test. This unique, innovative, and personalized approach to Pap testing utilizes the know error® system to ensure that the Pap test results belong to the patient needing treatment.
The Pap test evaluation process involves several individuals and many steps, some of which are beyond the control of a physician. Data from the American Journal of Clinical Pathology indicates that up to 3.5%* of specimens being evaluated may not come from the patient being diagnosed. In an effort to provide the most accurate results possible and facilitate proper treatment the know error® system utilizes bar coding, forensic principles and DNA matching.
DNA plays an important part in the Know Error testing process. A patient's reference sample of DNA (a cheek swab) is collected at the time of a regular Pap exam. If the patient's Pap test results from the cytology lab are positive for atypical cells, the DNA lab performs a DNA Specimen Provenance Assay (DSPA) test comparing the DNA profile of the reference sample and the DNA profile of the atypical cells. A DNA match removes the doubt of specimen contamination and ascribes the patient identity to the cells being evaluated.
*Pfeifer JD, Liu J. Rate of occult specimen provenance complications in routine clinical practice. Am J Clin Path. 2013;139(1):93-100.
 myPAP is a registered trademark of Manhattan Labs © 2015
---